Michelle Glover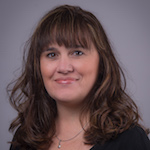 University of Arkansas, Assistant Athletic Director, Broadcast Services
Michelle Glover joined the Razorback staff in October, 2011 to oversee the Razorback Sports Network (RSN) Department.
In this role, Glover maintains oversight and administration of Arkansas' growing on-line and in-house video production unit. This includes SEC Network broadcasts, videoboard operations, and video content across multiple Arkansas Razorback platforms. In her time at Arkansas, she has grown the program from a four-person staff, which utilized a tricaster to stream events, to a staff of 11 full-time employees and 45 student assistants. The current facility hosts three centralized control rooms and fiber connectivity to all venues, as well as the ESPN/SEC Network family of networks. As the director of RSN, Glover is a member of the department's senior staff and cultural competency working group.
Glover joined the Razorbacks from College Station, Texas and Texas A&M University, where she served as the director of 12th Man Productions for the Aggies.
Glover began working with Texas A&M in August 2006 as a marketing manager for 12th Man Productions. She moved into the director's position in July 2008 and held that position until joining the Razorbacks.
Prior to her time at Texas A&M, Glover held a similar position at the University of Nebraska and worked with HuskerVision as a production coordinator. In this role, she managed the production and distribution of "The Nebraska Volleyball Show" along with other duties including writing scripts, producing videoboard features, and the creation of sport specific pieces for promotion and recruiting.
Glover is a graduate of Truman State University. She worked at KOLN/KGIN-TV in Lincoln, Nebraska and KTVO-TV in Kirksville, Missouri, before getting into college athletics.