Craig Silver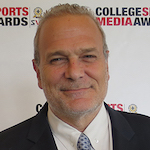 CBS Sports, Coordinating Producer, College Football
Craig Silver serves as coordinating producer for CBS Sports' coverage of college football and lead game producer for the Network's broadcasts of the SEC on CBS. He has served as lead game producer for 23 years and has produced 17 SEC Championship games, as well as other big moments across the SEC including Auburn's instant classic "Kick 6" upset win over Alabama in the 2013 Iron Bowl, and the Emmy Award-winning broadcast of the 118th Army-Navy game in 2017.
Silver also serves as a producer for college basketball and the NCAA Tournament, where he has produced some of the most iconic moments in the sport including the 1992 NCAA East Regional Final between Duke and Kentucky that featured Christian Laettner's buzzer-beater shot to send Duke to the Final Four.
Silver joined CBS Sports in 1981 as a production assistant and quickly moved up to become associate director the next year and producer/director in 1986. He has produced a medley of events for CBS Sports, including college football and basketball; ski jumping and the closing ceremony; weekend daytime broadcasts; and ice hockey during the Olympic Winter Games in 1992, 1994 and 1998, respectively, as well as the tennis highlight show, U.S. Open Late Night, for six years. During his nearly 37-year tenure with CBS Sports, Silver has won nine Emmy Awards, including one most recently for Outstanding Live Sports Special for the Army-Navy game in 2017.
Silver also worked as coordinating producer for the NBA on TNT from 1989-90.
Silver was honored as a Legend of the Sun Bowl in 2008 for his work behind-the-camera for the game, which he has played a production role in for more than 25 telecasts. He also received the National Football Foundation Legacy Award in 2012 for his contributions to the game of college football.
Silver graduated from the University of Missouri in 1981.